Geely Aerofugia, the leader in industrial-grade UAVs, has become the mainstream of the market
2022.04.08 Share
Author:Aerofugia

Under the background of aging population and rising labor cost, industrial-grade UAVs has been widely used to meet the urgent demands for the upgrading and development of various industries. As the leader of industrial-grade UAV sector, Geely Aerofugia has a R&D and operation team of more than 400 people with excellent scientific research ability, rich industry experience, lean production process and complete service system, which has become the mainstream choice of the market.

At present, there are three main products of AOSSCI, the industrial-grade UAV brand of Geely Aerofugia: AOSSCI XC-25 Doublecross UAV, AOSSCI XS-10 Migrant UAV and AOSSCI XB-12 UAV.

AOSSCI XC-25 Doublecross UAV is a large-load, long-endurance VTOL battery electric UAV combining the advantages of fixed-wing and multi-rotor UAVs. Equipped with a high-performance flight management computer, it is adapted to a variety of loads, with a maximum take-off weight of 25kg and a load of up to 6kg. It is modularly assembled, and can be assembled by two people in 2 minutes without any tools, which can be adapted to various industries.
AOSSCI XS-10 Migrant UAV is a high-performance VTOL battery electric UAV that flies horizontally. It combines the unique advantages of fixed-wing and multi-rotor UAVs, and can take off quickly in a narrow field without runway. It also features long flight duration, long distance and fast speed. It can be assembled in 2 minutes by a single person without any tools. The flight control system has strong compatibility and can support load customization.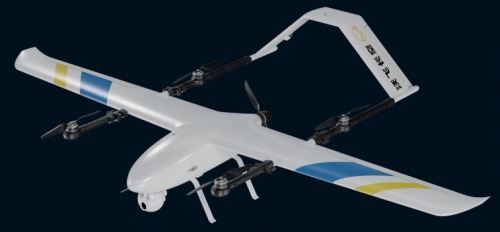 AOSSCI XB-12 UAV is a VTOL battery electric UAV with fixed wings. Equipped with flight control system with military-grade liability, it has a large-capacity modular payload module, which can replace the payload according to the mission requirements, completing the mission efficiently and at low cost, greatly improving the product reuse value and achieve high cost performance. The system is small and lightweight, can be transported by car, can be quickly assembled by one person, and it features easy human-computer interaction and high degree of automation.
Relying on these three products, Geely Aerofugia has occupied a large share of the industrial-grade UAV market and served many industries in depth. It is expected that the market scale of industrial-grade UAVs will continue to grow at a high speed for a long time, and Geely Aerofugia is expected to bring more surprises to the market, develop more UAVs with excellent performance and lead the industry to develop better and faster.